At Ocean Pointe, Realtors we're lucky enough to work with some of the best people around-we know how great they are-now we want to make sure you do too! In an effort to help spread the word we're going to spend the next few weeks highlighting different agents, be sure to check back often!
Meet Shannon Aldi!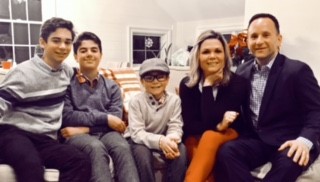 Shannon currently lives in Brielle with her husband, Andrew and their three sons Drew, Luke & Ryan (and 2 mini Daschunds; Dexter & Tucker). Shannon is committed to Brielle and the surrounding communities. She loves to volunteer with Brielle Elementary School, St Rose High School and the many sports & activities her boys are involved in. In addition, Shannon enjoys her position as a Substitute Nurse at the Elementary School, keeping her truly connected to her children and the many families in Brielle.
Here are some things you might not know about Shannon:
What is your go-to Karaoke song?
Tina Turner... Proud Mary. My father and I won our Family Talent show with an amazing performance of Proud Mary.... we even had back up singers!
What was your first job?
I worked at the Corn Crib in Poughkeepsie, NY... I sliced deli meats. Not sure why I had that job because I pretty much had no clue what I was doing or had no business using a slicer at 15!
What's your favorite holiday?
Hands down thanksgiving.... it's all about family, eating and cocktails without the pressure and craziness of presents!
What's the most unusual thing you've ever eaten?
Nothing! I am a plain old Irish girl that loves meat and potatoes! I have never met a pot of mashed potatoes I didn't fall in love with!
If you could turn any activity into an Olympic sport, what would you have a good chance at winning medal for?
Cleaning. I actually like to clean. Wine drinking? No, that is silly!
What's your dream vacation?
An ENTIRE summer in Nantucket... with my boys and my husband without cell phones or work! With lots of company and perfect weather.... oh, and a beach front property with a pool too! While we are at it- add in a private chef and daily cleaning service too. Ok, I just woke up from that dream!
Are you related or distantly related to anyone famous?
I am the famous one! I was featured on a Johnson & Johnson nurse campaign commercial in 2005! It was a national commercial, appearing on CNN frequently....
What's your favorite movie?
Steel Magnolias... but Forest Gump is a close second!
What's one thing you want your clients know about you?
I actually really enjoy what I do! And, I truly care about the people I get the opportunity to work with. Buying a house should be exciting! It's my job to keep it exciting, and minimize the stress.
If you're looking to buy, sell or rent Shannon is here to help! Give her a call at (732) 606-7104 or reach her via e-mail at shannonaldi@gmail.com.